33 aquariums, thousands of different fish, more than a million litres of water, educational programmes and a environment that recreates the habitat of the species in the largest aquarium of the Canary Islands, situated in Costa Teguise. Lanzarote Aquarium has taken in endemic species of the Atlantic marine fauna and characteristic species of the tropical environment.
Read more...
In Puerto del Carmen, main tourist attraction of the island, we find the Gran Casino of Lanzarote, surrounded by the largest conglomeration of restaurants and shops on the island. It is aimed to the general public, those who are willing to enjoy fun nights and exquisite food, together with the excitement of a games atmosphere in a nice environment.
Read more...
The Whale and Dolphin Museum is located in Puerto Calero and it is an attraction that you should not miss.
Read more...
Paintball is nowadays one of the most popular leisure activities. Perfect to fight stress for groups in large companies or simply to have a good time amongst friends. Suitable for all ages.
Read more...
Fabulous day on board our luxurious catamaran. Swim, snorkel, relax and be pampered by our competent crew. Jet ski ride included.
Read more...
What better way is there than to explore the island high up on a horse. Alike many other efforts in favour of preserving Lanzarote's natural assets, local authorities have developed defined riding routes (called Plan de Rutas Ecuestres), allowing horse-riding lovers to get in touch with the surrounding nature without any risks of personal damage because of the often-rough terrain.
Read more...
Ride back in time and get the feel of the "roaring Wild West". Meet cowboys and indians, enjoy rustic barbeques, saloon gals, sheriffs and can-can girls. Just take a look around to see what's in store.
Read more...
The Blue Delfin catamaran offers you some exciting excursions. A fabulous mini-cruise along the coast of Puerto del Carmen, a fun filled excursion with water activities, a fantastic dolphin and whale safari or a complete day visiting the picturesque town of Corralejo and the Sand Dunes of our neighboring island of Fuerteventura.
Enjoy an unforgettable experience with comfort, space & security.
Read more...
Referred to by Cesar Manrique as 'the most beautiful nightclub in the world', the series of volcanic tubes and bubbles known as Jameos del Agua, has much to offer the visitor looking for something different.
Read more...
Cueva de los Verdes (in Spanish it means "Green's cave", because in the past its owners were the "Verdes" family) is a lava tube located in the island of Lanzarote in the Canary Islands. The cave is a protected area of the Canary Islands. The cave was created around 3,000 years ago from a volcanic eruption in La Corona. An enormous lava stream flowed over the Malpais de la Corona. For a long time, the lava stream flowed which left the top part to become a cave. In about 20 spots, the cover of the cave collapsed and formed.
Read more...
Mirador del Rio, stands on the site of a former coastal fortification and once again local artist, César Manrique, designed the building and outside areas to provide a view which can only be described has breathtaking. The room inside, which also serves food, has wraparound windows, which allow a panoramic view over to the tine isle of the Graciosa and the strait of "El Rio" which separates it from Lanzarote.
Read more...
If you're not a cactus expert you won't believe how many cactus species actually exist - but you'll have a good idea after visiting the fascinating Cesar Manrique designed Cactus Garden near Guatiza, easily accessed off the LZ10 main road.
Read more...
To get to know lanzarote through its museum is a great choice, since each will show us and move us closer to a paradise, not only of the biosphere but a paradise of myths, legends, culture and roots.
Read more...
UNESCO declared the island of Lanzarote Reserve of the Biosphere in 1993 and it has become a reference to the practice of sports. Getting to know Lanzarote will be undoubtedly an unforgettable experience. One can discover the Route of the Volcanoes in the national park of Timanfaya, and discover each corner of this singular volcanic island, by foot, horse or by bicycle, through its beautiful footpaths.
The beaches of the island have crystalline waters and shiny or dark sand; calm and relaxing waters or continuous swell, ideal for the practice of sports like surf or windsurf.
Here is a listing with all the professionals ready to show you how to live the magical Lanzarote.
Read more...
This golf course is located in the base of an old volcano and has amazing views over the Atlantic Sea. It is a course with 18 holes designed by British designer John Harris y constructed in 1978. The course is not only great for its design but also for the good weathe rit has all year round.
Read more...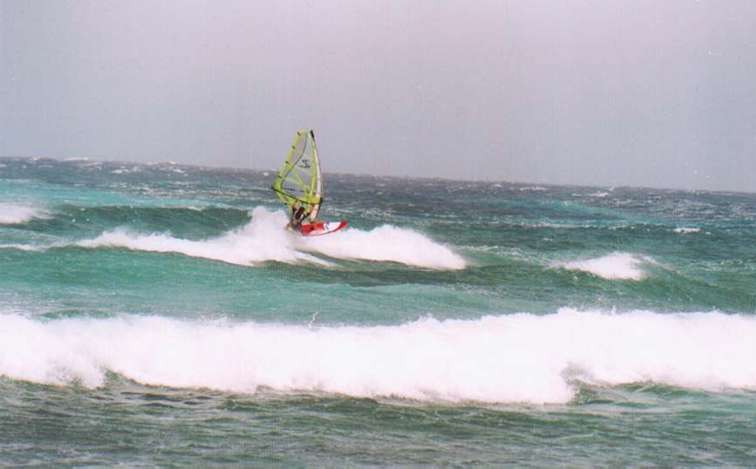 Lanzarote is one of the islands with more boats compared to its total surface. It is an ideal place to enjoy the sea, with tranquil and golden coasts, gentle breeze and a great weather. The island's waters are considered as one of the best international references for deep-sea fishing, with boats departing from Puerto Calero, Puerto del Carmen, Playa Blanca and Caleta del Sebo (Graciosa Isle).
Read more...